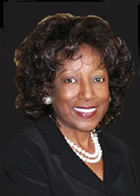 MS Habersham Consulting Services, LLC is a woman-owned business founded in 2010. Managing Member, Myrtle S. Habersham, as an executive with the Federal government before her recent retirement, has for the last three decades earned an outstanding reputation in government, academia, and non-profit organizations. She is known for consistently delivering customer-focused, performance outcomes for her clients.
Habersham is affiliated with a diverse group of consultants who have many years of experience leading people, managing organizations, and achieving the desired organizational and business outcomes. Habersham and affiliates will work tirelessly to become "vested partners" in your business processes and infrastructure systems.
MS Habersham Consulting, LLC offers a comprehensive suite of managerial consulting services designed to assist the business owner, manager or organizational leader to remain competitive and achieve optimal success. Among these services are:
Strategic Planning & Project Facilitation
Organizational Assessments & Productivity Enhancements
Human Resource Development and Continuous Improvement Processes
Habersham's goal is to establish and maintain a lifelong relationship with each valued customer by providing expert management consulting services that provide timely, cost effective and practical solutions for your organizations and businesses that are consistently Quality Focused, Results Oriented, and People Centered.